31 May 2018
Plaques in Peckham and Nunhead
Peckham and Nunhead have a wide range of plaques commemorating the local significance of a person, event or building. These permanent records are often fixed to a building where an individual lived or worked.
The major plaque-awarding organisations have different criteria; the most  stringent is English Heritage. This scheme was started in 1876 and was initially administered by the Royal Society of Arts. An individual must have been dead for at least 20 years and cannot be fictional. The plaque will only be placed on building fabric that is contemporary with or pre-dates the association being commemorated – Peckham and Nunhead would surely otherwise have more worthy recipients.
In the London Borough of Southwark scheme the original building is not necessary for nomination. It also permits the commemoration of living people in the borough. This scheme was launched in December 2002 as a partnership between Southwark News, Southwark Heritage Association and Southwark Council. The blue plaques are awarded through popular vote following public nomination.
Other organisations include the Peckham Society and Nubian Jak Community Trust.
Do let us know if you spot any other plaques missing from the list below (it excludes building foundation, dedication and renovation plaques).
English Heritage plaques
164 Queens Road, SE15 2HP (1995)
ENGLISH HERITAGE


Dr Harold Moody
1882-1947
Campaigner
for Racial Equality
lived and worked here.
78 Denman Road, SE15 5NR (2003)
ENGLISH HERITAGE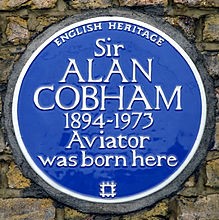 Sir Alan Cobham
1894-1973
Aviator
was born here
142 Queen's Road, SE15 2HP (unveiled 26 March 2009 – unveiling)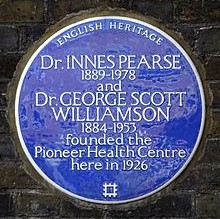 ENGLISH HERITAGE
Dr. Innes Pearse
1889-1978 and
Dr. George Scott Williamson
1884-1953
founded the
Pioneer Health Centre
here in 1926
London Borough of Southwark
1 Millbrook House, Peckham Park Road, SE15 6TG (2003)
London Borough of Southwark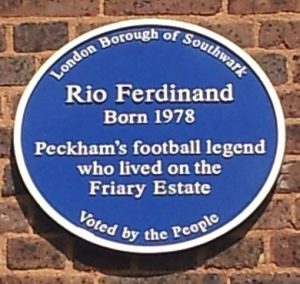 Rio Ferdinand
Born 1978
Peckham's football legend
who lived on the Friary Estate
Voted by the People
Livesey Museum, 682 Old Kent Road, SE15 1JF ( 2003)
London Borough of Southwark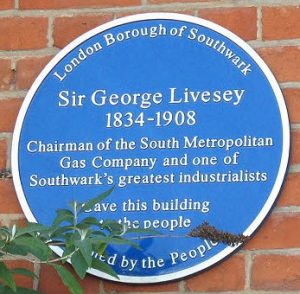 Sir George Livesey
1834-1908
Chairman of the South Metropolitan
Gas Company and one of
Southwark's greatest industrialists
Gave this building to the People
Voted by the People 
Pioneer House, Frobisher Place, St Mary's Road, SE15 2EE (unveiled 24 September 2005 – unveiling)
London Borough of Southwark
The Pioneer Health Centre
opened here in 1935.
Known world-wide as the
Peckham Experiment,
it was a family-based club
for the study of health and society.
Voted by the People  
Manze's pie and mash shop, 105 Peckham High Street, SE15 5RS (unveiled on October 18 2005 during Southwark's first Citizen's Day celebrations)
London Borough of Southwark
M. Manze
Founded 1902
Opened here 1927
The home of
pie and mash
Voted by the People 
8 Philip Walk, Peckham Rye SE15 3NH (unveiled 25 October 2009 – unveiling)
London Borough of Southwark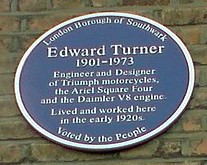 Edward Turner
1901-1973
Engineer and Designer
of Triumph motorcycles,
the Ariel Square Four
and the Daimler V8 engine.
Lived and worked here in the early 1920s.
Voted by the People
Linden Grove, SE15 3LP
London Borough of Southwark
All Saints Cemetery
Nunhead
Established by the
London Cemetery Company July 1840
A haven of tranquillity and
remembrance
Voted by the People
The Peckham Society
55 Denman Road, SE15 (unveiled 19 April 2013 – unveiling)
PECKHAM SOCIETY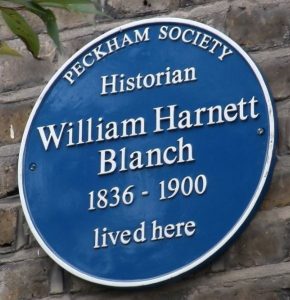 Historian
William Harnett Blanch
1836-1900
lived here
Elm House, 64 Elm Grove, SE15 5DE (unveiled 17 May 2014 – unveiling)
PECKHAM SOCIETY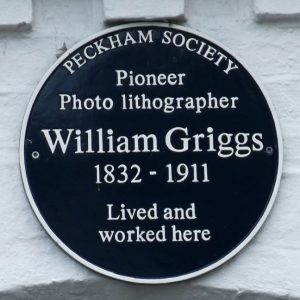 Pioneer Photo lithographer
William Griggs
1832-1911
Lived and worked here
Asylum House, 12 Asylum Road, SE15 2RL (unveiled 14 March 2016 – unveiling)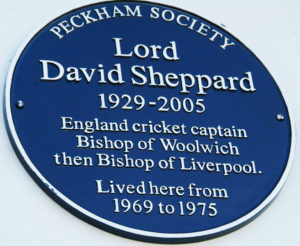 PECKHAM SOCIETY
Lord David Sheppard
1929-2005
England cricket captain
Bishop of Woolwich
then Bishop of Liverpool.
Lived here from 1969 to 1975 
Other  plaques
2 Highshore Road, SE15 5AA
HISTORIC SOUTHWARK
FRIENDS MEETING HOUSE THIS BUILDING WAS THE
PECKHAM MEETING HOUSE OF THE SOCIETY OF FRIENDS
1835-1962 ATTENDED BY EMINENT QUAKERS
INCLUDING ELIZABETH CADBURY, SOCIAL REFORMER,
AND ARTHUR EDDINGTON, ASTRONOMER. 
1-2, Central buildings, Rye Lane, SE15 5DW
SITE OF THE OLD
HANOVER CHAPEL
1717-1910
MADE FAMOUS UNDER
THE MINISTRY OF
DR W. B. COLLYER.
1801-1852
Christ Church, McDermott Road, SE15 4NZ  (1989)
On 30 July 1922
Dr Ebenezer Boon
1867-1941
broadcast the first sermon
by radio in Britain
to the congregation
in this Church
Damilola Taylor Community Centre, 1 East Surrey Grove, SE15 6DR
"I will travel far and wide
to choose my destiny and remould
the world.
I know it is my destiny to defend the
world, which I hope to achieve in my
lifetime."
Damilola Taylor
1989-2000
19 Hichisson Road, Nunhead, SE15 3AN (unveiled 19 May 2013 – unveiling)
NUBIAN JAK COMMUNITY TRUST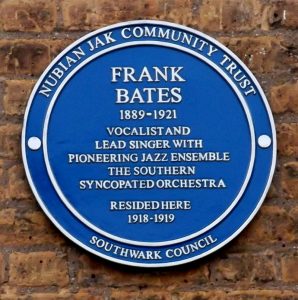 FRANK BATES
1889-1921
VOCALIST AN LEAD SINGER WITH
PIONEERING JAZZ ENSEMBLE
THE SOUTHER
SYNCOPATED ORCHESTRA
RESIDED HERE
1918-1919
SOUTHWARK COUNCIL
http://www.bbc.co.uk/london/content/articles/2006/10/09/orchestra_feature.shtml
Peckham Library Square  122 Peckham Hill Street, SE15 5JR (2005)
Planted by the Peckham Community Council
during Black History Month 2005
in commemoration of the
25th anniversary of the death of
Dr. Walter Rodney – local resident,
historian and global
freedom fighter – who was assassinated
on 13th June 1980
Nunhead Lane, SE15 3TU
On this site stood a Garage for the
Steam Buses which The National Steam
Car Company opened in 1911.
The Clock Tower is a replica of the
one which existed until 1999.
Information boards
Peckham Rye POW huts
Peckham Peace Wall  (unveiled 8 August 2012)   Peckham Peace Wall
Savage's corset factory bombing (unveiled 23 June 2017)   Corset factory