19 Aug 2016
Dance Bands of the Thirties and later
From: Malcolm Adams
by email
My mother recently died and amongst her possessions I found a box of calling cards many of which were from Peckham musicians including my father. I have made up a collage with a picture of my father as centrepiece.
My father played banjo mainly, but was also a tenor saxophone player. He also formed a band known as the Aeolian Dance Band of which he was also the MC (Master of Ceremonies).They used to have bookings at Dulwich Baths but sadly I did not quiz him as to where else they played. He did tell me once that they played at the annual dinner dance of the Nunhead Wheelers (cycling club). The Peckham Musicians on the collage are as follows: L.H.ADAMS (Banjoist) [79 Philip Road]; H ELLIOTT (Banjoist) [43 Bournemouth Road]; Henry G. BEARD (Pianist) [234A Commercial Road]; W. THOMPSON "THE PALS DANCE BAND" [141 Blakes Road]; C.T. MILES [18 Whorlton Road]; William BRIMSON [87 Talfourd Road]; and from the surrounding area: W.A.G. SMITH "The Unique Syncopators" [87 Woodpecker Road S.E.14]; E EVANS (Saxophonist, Alto & Tenor) [16 Warmington Road S.E.24]; Sid CHAMBERLAIN (Trumpet) [10 Lombard Street S.E.7] also: GRANVILLE DANCE BAND Office 88 New Cross Road.
I hope this may stir some interest and maybe somebody may recognise their father's or grandfather's name and have more information on the dance bands of Peckham in the 30s.
October 2017
From: Ken Cook
by email
My wife's late father, Charles Kiefer, was the drummer with a local Dance Band, I don't know the name of the Band, but I am attaching a photograph of that Band, which I thought you might like to include.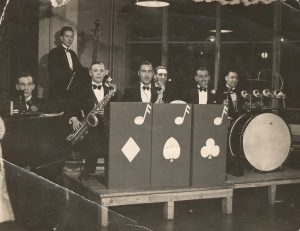 I can't name any of the personnel, apart from Charles Kiefer (behind the drums) and Robert (Bob) Jackson, the guitarist, 3rd from the right (looking at the photo).
I suspect that all of the Band Members are now dead, but some people might recognise their relatives from their own family photos.