The large Victorian industrial building next to the bus garage depot on Blackpool Road is described today as the 'Old Mill' but little is known of its history. On late 19th maps and early 20th century maps it is labelled 'British Wine Manufactory'.
In 1871 the road layout in that area of Peckham was complete. Cow Lane (now Copeland Road) and Russell Road (Blackpool Road) were lined with terraced houses. A large space between Cow Lane and Albert Road lay empty.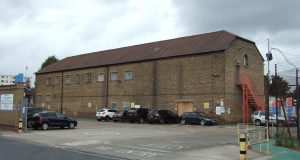 By 1876 William Woodhams, Vinegar maker, was listed in the PO Directory at Copeland Road, Peckham. William (1828-1888) had moved with his family from Brighton where he and his sibling had been Wine Merchants and British wine makers since the mid-1860s.
Woodham's factory was the first permanent building on the site. The entrance was from Copeland Road with an ornate doorway at the west end. The complex of buildings provided for manufacture, bottling, labelling, storage, dispatch and administration. Power for pumping liquids around the site and the milling machinery was provided by steam engines – the railway was conveniently near by. It is possible they used wooden storage vats from Carty's vat-makers, who moved from Bermondsey to Peckham in 1921.
In the 1881 census William Woodhams is a 'British Wine & Vinegar Maker Employing 7 Men & 3 Boys.' The family lived nearby at Landsdown Villa in Harders Road. The company W. Woodhams & Co. was producing British wine and 'non-alcoholic' wines in addition to vinegar on this site.
Definitions have changed: today 'British Wine' is a cheap wine made from imported grapes or grape concentrate as opposed to English (or Welsh) wine which must be the product of fermented, freshly crushed grapes. The Victorian 'British wine' would now be defined as a 'Made-wine' which covers all other alcoholic drinks, excluding beer and cider, made by fermentation rather than by distillation:
These are usually made by fermenting solutions of sugar with which various ingredients are mixed in order to impart the particular flavour or character required. The principal kinds are Ginger, Orange, Raisin, and Rhubarb Wines, but a number of others such as Cowslip, Elderberry, Gooseberry, and Damson wines have a certain vogue, more especially as domestic preparations. They are all included within the legal term 'sweets or made wines,' which are defined as 'Any liquor made from fruit and sugar, or from fruit or sugar mixed with any other ingredient, and which has undergone a process of fermentation in the manufacture thereof.'
Charles Simmonds. Alcohol: Its Production, Properties, Chemistry, And Industrial Applications. (1919)
Despite being 9 to 15 per cent. of alcohol by volume there were few regulations on production. It was exempt from alcohol tax, unlike beer, wine and spirits, though the manufacturer required a maker's licence for any alcohol for sale and the vendor also had to be licenced for the sale.
These 'sugar wines' were also used a vehicle for unpleasant-tasting medicinal drugs. Medicated or Tonic wines became very popular during the Victorian era, often claiming near miraculous medicinal properties – again there were rules on advertising.
These are wines containing medicinal drugs, and are typically represented by the six medicated wines of the British Pharmacopoeia, namely, Antimonial Wine, Colchicum Wine, Iron Wine, Wine of Iron Citrate, Ipecacuanha Wine, and Quinine Wine. The basis may be either a foreign wine or a British wine; thus of those in the above list the preparations of iron citrate and quinine are made with orange wine, and the others with sherry.
Charles Simmonds. Alcohol: Its Production, Properties, Chemistry, And Industrial Applications. (1919)
Most of these products are long gone, though a few such as Sanatogen and Buckfast Tonic Wine survive today though minus their health-giving claims.
William Woodhams died on 13 March 1888 leaving an estate of more than £16,500 – about £1.5 million by today's values. The company continued to flourish after William's death and was taken over by local grocers Thomas Benjamin Woodfall (1850-1930) and Walter John Fuller (1842-1905), and former bookseller's assistant Frederick Smyth (1851-1931).
The South London Press carried a report of the company dinner, which sounds a very relaxed and jolly occasion.
BRITISH WINE AND MALT VINEGAR MANUFACTORY, PECKHAM. – The employees of the British Wine and Malt Vinegar Manufactory, Copeland Road, Peckham, dined together on Saturday evening in the Peckham Public Hall, under the presidency of J. B. Woodfall, one of the partners, who was supported by Mr W.J. Fuller, Mr F. Smyth, Mr H. Smyth, Mrs Woodfall, and Mrs Fuller. The proceedings after dinner were of a very enjoyable character, consisting mainly of vocal, instrumental and elocutionary selections by the company. Mr Fuller played a violin selection, and Mr Heard a pianoforte selection. The firm does an extensive business in the vinegar trade and of late years they have developed a considerable trade in British wines.
South London Press, 5 January 1889
Walter Fuller left the partnership on 15 May 1891 and moved to Benson in Oxfordshire. At this time the 'British Wine and Vinegar and non-alcoholic Wine. Manufacturers and Foreign Wine Merchants' was using a number of trading names: W. Woodhams & Co., Walker & ,Walton and F. Smyth & Co. They were also wine importers.
The company was a family business and the sons followed in the trade: in the 1901 census Frederick Miles Smyth (1881-1969) was an 'Apprentice in British Wine Factory' and Cecil Woodfall a Wine Traveller. Gilbert Woodfall (1885-1965) became a Wine Merchant but his younger brother, Rupert, opted to become an optician. Smyth senior's father, aged 74, was a 'Traveller for British Wine'.
In March 1929 W. Woodhams & Co. had another change of management as the older generation of Thomas Benjamin Woodfall and Frederick Smyth retired and handed the company over to their sons Frederick Miles Smyth and Gilbert Woodfall.
Frederick retired in September 1935 leaving just Gilbert Woodfall in charge. By 1939 both men had moved from Peckham and East Dulwich and were living in Beckenham, Kent.
W. Woodhams & Co. British wine makers continue to feature in business directories until 1950 though from 1946 London Oil Refining Co. Ltd. liquid soap makers are also listed at 72 Copeland Road. The latter endures until 1960. By 1965 the site is part of Camberwell Borough Council (Building Division), subsequently the London Borough of Southwark.
From the mid-1980s The Old Mill lay empty; Peckham Bus Garage opened on the ex-council depot site in 1994. In 2007 the building was acquired by Community Outreach Ministries, a family and community focussed Church, which flourishes today – rather a contrast to the original use of the building.
So why was it called The Old Mill? The most likely reason is the milling process to crush the malted barley that was used in the vinegar production.
Christine Camplin
(with thanks to Chris Scales)
Reprinted from Peckham Society News, Issue 151 (Winter 2017)