To most people the thought of heavy industry in London up to the turn of the 21s century  might seem absurd. George England and Co. started up from Newcastle upon Tyne in 1812 and began producing locomotives in Hatcham Iron Works in the 1840s. The site lay just east of Pomeroy Street in Peckham. They were best known for making screwjacks (commonly used for lifting heavy weights such as vehicles), weaving machines and then steam locomotives. The company produced the first tank locomotives, the "bread and butter" engine for shunting, on the Newhaven branch line for the London, Brighton and South Coast railway. They exhibited an engine "Little England" at the Great Exhibition in Hyde Park in 1851, for which they won an award. They also produced locomotives for the Festiniog Railway, the Wantage Tramway, the Caledonian Railway, as well as the Blackwall Railway, the Great Western, Somerset and Dorset and Victorian railways, the latter in Australia.
At that time there was only a horse and wagon facility to transport the locomotives to where there was a rail head. The local "first railway in London" the London Bridge to Spa Road and Greenwich line (1836-1838) was on a parapet. This is because the original line had to go over the River Ravensbourne and the viaduct is about a house storey and a half above ground level. They had an incline plane up which the engines and rolling stock could be winched. There is no evidence that the locomotives came onto the track in this way. The construction of this parapet to London Bridge meant that this pattern of parapets now exists all over South London which also means that less destruction of houses occurred in the early 19thC during their building. The classic engines built for the pre British Rail systems: The Great Western, The London and North Eastern, London Midland Scotland and the Southern Railway were built at the very railway works identified by the acronyms: GW, LNER, LMS and SR.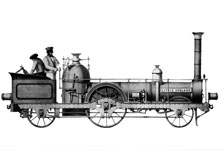 There is no evidence now of where the Iron Works existed. In 1869 the inventor of the Fairlie locomotive took over the company in partnership with George England's son George Jnr. Later George Jnr was joined by Francis Fairlie in the 1860s. At the turn of the century the company became the General Engine & Boiler Company (GE&BC). In 1935 the Reliance Foundry was formed and ran aside (BC&BC) at the Hatcham Iron works. From 1975 through to 2002 the company modernised. After the firm moved to Sydenham, it became Maybrey Reliance Castings and finally moved to Belvedere, Kent.
The costs of land use in central London for building houses means that eventually industrial firms have to move out of Greater London where the land is cheaper.
The industrial past is very important for us to record the industrial buildings and write up their histories for posterity.
Peter M Frost
Website The Hatcham Iron Works Archive
(Article first appeared in the South London Press, 26 May 2017)