01 Nov 2017
Peckham's lost river is hidden for almost all its length; most of it was enclosed in the 1820s and it is now only visible at two points.
The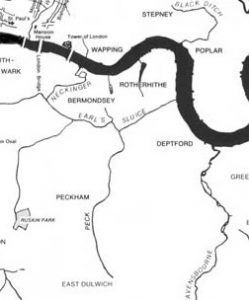 River Peck rises on One Tree Hill in Honor Oak and runs down the hill in a culvert to emerge at Harris Girls' Academy. Priory Farm once stood on this site in Homestall Road. Later, girls at Honor Oak School (built 1931), used to 'jump the stream'; pupils at Harris Academy probably still do so.
The river then runs beneath Colyton Road to Peckham Rye Park where it reappears in all its glory in artificial yet picturesquely landscaped channels as it runs across the entire park from east to west.
It drains beneath a flowerbed into a pipe beneath the western edge of Peckham Rye Common. The former route across the common is shown by the contours and on rainy, waterlogged days the river itself 'reappears'. Old maps showed a watercourse across Peckham Rye terminating in a pond in the north.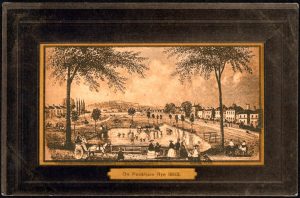 From then on, nothing remains above ground to show the former course of the River Peck as the culverted stream has long since become part of London's sewer system.
It continued to the west of today's Copeland Road towards Queen's Road then ran along Asylum Road and crossed the Old Kent Road providing one of the few watering places for drovers bringing cattle up to London from Kent. The mural on the former Kentish Drovers  pub is a reminder of that time.
From there, the River Peck ran north along Ilderton Road tracing the former parish boundaries separating Deptford from Camberwell and Bermondsey. It finally joined the Earl's Sluice in South Bermondsey, just east of South Bermondsey station, at a spot where the three former parishes met.
Earl's Sluice empties into the Thames at Deptford Wharf. Together the River Peck and Earl's Sluice once drained a basin roughly matching the boundaries of the modern borough of Southwark.
For further information:
London's lost rivers
Diamondgeezer.blogspot.co.uk