Peckham Methodist Church (Wesleyan)
Woods Road SE15 2PX
Website:
Church history: Peckham Methodist Church
Built: 1864-65 Architect: Cost:
Dedicated:
No. of seats: 1050 (1894); congregation 935 (1902/3)
Rebuilt: 1973-74
Still in use
The Methodists have occupied a succession of buildings just off Queens Road since Providence hall in Harders Road in the early nineteenth century. It only held about 60, so in 1833 the New Chapel was built in Stafford Street. Part of this continued to be used by the Peckham Settlement for many years. As housing encroached on the fields and gardens in which it was originally located, the church found itself in a back street with a diminishing congregation, and so built a new church in a more central position.
The second 'new' Wesleyan Chapel became a landmark in Queens Road. It was in Kentish ragstone with Bath stone dressings and early decorated Gothic style. Nichols Pevsner summed it up as "a monstrously ugly building of 1864 by Hoole, with a demonstrably asymmetrical and crazily detailed NW turret".
Renovation after severe war damage was completed in 1954, but only 15 years later, as running costs became excessive, the decision to rebuild was made. The Victorian church was demolished in 1972 and the new community church and meeting rooms opened in 1973.
Wesleyan Methodist Mission
Stafford Street
Congregation 170 (1902/3)
Hatcham Manor Chapel (Wesleyan)
Tustin Street
Built: Architect: Cost:
Consecrated:
No. of seats: 100 (1894); congregation 303 (1902/3)
fate
1877 became part of the London (Peckham) circuit. Damaged in war and closed 1946.
Sumner Road Primitive Methodist Chapel
80 Sumner Road
Opened 1874
Congregation 56 (1902/3)
Today: SureWay Christian Centre (Pentecostal).
It was part of the "Primitive Methodist Connexion: London Fourth Circuit: Peckham: Sumner Road, S.E. London."
The Primitive Methodists are erecting a chapel in the Sumner Road, Peckham, the foundation-stone of which was laid by Horace Marshall, Esq., of Brixton. The memorial-stone was laid by John Olney, Esq., of Lewisham.
Ye Parish of Camerwell W.H. Blanch (1875)
In 1906 Rev Thomas Kwame Brem-Wilson re-founded Sumner Road Chapel, known today as Sureway International Christian Ministries.
Hill Street Chapel (United Methodist Free Church)
Hill Street
Built 1854
No. of seats: 250 (1894); congregation 101 (1902/3)
Demolished 1979 though ceased use as chapel some years earlier.
The Free Methodists have erected a substantial building in Hill Street, Peckham. The Rev. J. Coman is the present minister.
Ye Parish of Camerwell W.H. Blanch (1875)
Bellenden Road (United Methodist Free Church)
Opened 21 at 1885
No. of seats: 550 (1894); congregation 291 (1902/3)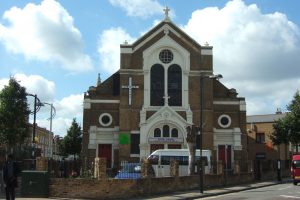 The site was purchased in 1876, a schoolroom and hall opened following year and temporary church until new one opened in Bellenden Road 21 May 1885.
In 1907 it became known as Bellenden Road United Methodist Church.
In November 1920 it was bought by Hanover Chapel. Became Faith Chapel in 1979. (SEE Congregational page).
It became Faith Chapel in 1979.
Waverley Park Church (Methodist New Connexion)
159 Ivydale Road.
Opened 3 May 1896
Congregation 363 (1902/3)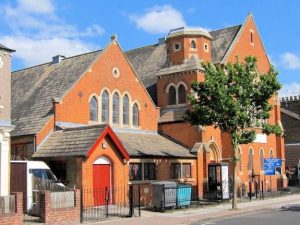 In 1887 a Mission was started in Forest Hill and a temporary church was opened. It was built 1895-5 and opened in 1896. This was the last Methodist New Connexion church to be built in London.
In 1907 it became a United Methodist church, and from 1932 part of the Methodist Union as Waverley Park Methodist Church. The final service was held in July 1947.
From ??? Seventh Day Adventist church.