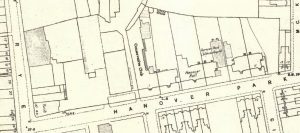 In 1914, at the beginning of the war, Mr. Charles Higgins, of the drapers Jones & Higgins, placed Hanover Lodge, the firm's Male Hostel in Hanover Park, at the disposal of the War Office for use as a hospital. In 1915 it became the 35-bed Hanover Park V.A.D. Hospital, an auxiliary to the First London (T.F.) General Hospital in Cormont Road, Camberwell.
The accommodation was increased to 50 beds in May 1917.  The Hospital was then staffed by 3 trained nurses and 90 part-time V.A.D. members.
Hanover Park Hospital closed on 30th April 1919.
Today the site of Hanover Lodge is covered by Morrison's supermarket car park.
See: Lost Hospitals of London: Hanover Park V.A.D. Hospital for more information.