Christ Church
(also known as Norfolk Street Chapel and Norfolk Baptist Chapel)
McDermott Road, corner of Reedham Street
Website: www.findachurch.co.uk/details/peckham/21327.htm
Built: 1880
Consecrated:
No. of seats: 400 (1894); congregation 82 (1902/3)
Current congregation of Christ Church are affiliated to The Fellowship of Independent Evangelical Churches
This chapel was built in 1880 by Ezekiel James Bailey and has seen use by a number of congregations. In 1886 it was rented by Baptists from South London Chapel and known as Norfolk Street Baptist Chapel.
On 30 July 1922, Dr James Ebenezer Boon (1867-1941) broadcast the first sermon by radio in Britain to the congregation in this church.
The church was damaged during the war and later repaired; it reopened in April 1949.
Heaton Road Chapel
The Gospel Hall, 20 Heaton Road  SE15 3NL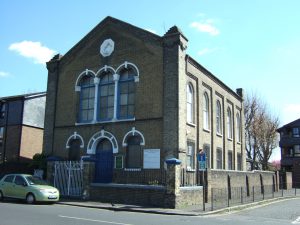 Built: 1873   Cost: £1,300
Foundation stone laid: 5 May 1873
Opened 21 September 1873
No. of seats: 300 (1875); congregation 113 (1902/3)
Still in use
Website: Heaton Road Church
This chapel, known as Zion Chapel, belongs to the Independents. The members originally met for worship in the Mission House on Peckham Rye. This place becoming too small, a fund was raised and the present chapel built to seat 300, at a cost of £1,300. The memorial-stone was laid by Mr. E. Vinall, minister of Regent Street Chapel, City Road, May 5th, 1873 ; the stone was given by D. C. Preston, of Nunhead. The chapel was opened for worship September 21st, 1873.
Ye Parish of Camerwell W.H. Blanch (1875)
The building was originally constructed for a Baptist hall but soon after sold to few small groups of the 'brethren movement' who came together and met in the building. It became known as 'Rye Lane Gospel Hall' but in recent years the name was changed to 'Heaton Road Church' to avoid confusion with the Gospel Hall at 243 Rye Lane.
The current church was established in 1950.
Orchard Mission
Mission Place/Batchelors Hall Place
Built: 1904
Opened: 31 January 1906
Congregation 209 (1902/3)
Current use: ?
In 1897 a small group of young men were inspired to action in a deprived part of Peckham  following an evangelical campaign at Peckham Wesleyan church. From open-air meetings and gospel services they moved to a range of premises: a frou-roomed cottage, the parlour of the disused Blue Anchor pub, and then in 1893 to Batchelors Hall in Batchelors Hall Place,
The congregation grew so in 1904 the Ragged School Union (now the Shaftesbury Society) bought a site in Blue Anchor Lane (now Mission Place) and built the present building.
See also: Exploring Southwark: Orchard Mission